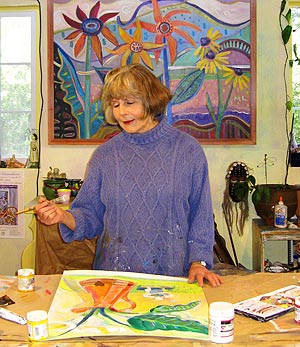 Most of my life I've made art. For many years I created more functional art: dolls, puppets, painted boxes, original games and wearable art clothing. After completing a large order of hand-painted scarves for Nordstrom, I longed to leave production art and just paint, and I did that in 1993.
I often work from the imagination but also use references. I create commissioned work from a meeting with the person, or family and continue from photographs.
I've shown at many galleries and created the 1999 Sebastopol Apple Blossom Festival poster, won the 2001 KJZY CD cover competition, created art for Watershed Day and for the Virginia Wolfe Conference at Sonoma State. I have done covers for many books and enjoy these projects very much.
I also participate in the open studio events Art at the Source in June and Sonoma County Art Trails in October. Check the Art Shows section for upcoming events information.
My art is in collections worldwide and I like to think that I am making a connection through paintings. I hope you find something in my art that makes you smile, or perhaps the colors match your sofa! Click here to go to the Art Gallery.